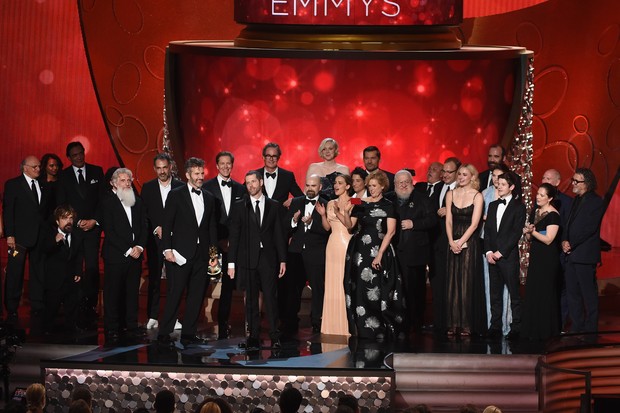 Elenco e equipe de "Game of Thrones" sobem ao palco do Emmy Awards para agradecer prêmio (Foto: AFP)
As séries "Game of Thrones" e "American Crime Story" foram as grandes vencedoras do 68º Emmy Awards, principal premiação de TV nos Estados Unidos, que aconteceu neste domingo, 18, no Microsoft Theater, em Los Angeles. Com os três troféus que conquistou durante a noite, "Game of Thrones" quebrou o recorde histórico como a série mais premiada em toda a história – ao todo, desde que está no ar, o seriado já ganhou 38 estatuetas.
Já "The People vs O.J. Simpson: American Crime Story" conseguiu vitórias em cinco categorias, incluindo melhor série limitada (novo nome para a categoria minissérie). Entre as comédias, a grande campeã foi "Veep", que pelo segundo ano consecutivo foi eleita a melhor série do gênero. Pelo papel de protagonista, Julia Louis-Dreyfus ganhou pela quinta vez seguida o prêmio de melhor atriz cômica.
Abaixo, veja a lista completa com os vencedores (em negrito) em todas as categorias.
— PRINCIPAIS CATEGORIAS
Melhor série de comédia
"black-ish"
"Master of none"
"Modern Family"
"Silicon Valley"
"Transparent"
"Unbreakable Kimmy Schmidt"
"Veep"
Melhor série de drama
"The Americans"
"Better Call Saul"
"Downton Abbey"
"Game of Thrones"
"Homeland"
"House of Cards"
"Mr. Robot"
Melhor série limitada
"American Crime"
"Fargo"
"The night manager"
"The People vs O.J. Simpson: American Crime Story"
"Roots"
Melhor filme para TV
"A very Murray Christmas"
"All the way"
"Confirmation"
"Luther"
"Sherlock: The abominable bride"
— CATEGORIAS DE ATUAÇÃO
Melhor atriz em série em série de comédia
Ellie Kemper ("Unbreakable Kimmy Schmidt")
Julia Louis-Dreyfus ("Veep")
Laurie Metcalf ("Getting on")
Tracee Ellis Ross ("black-ish")
Amy Schumer ("Inside Amy Schumer")
Lily Tomlin ("Grace and Frankie")
Melhor ator em série de comédia
Anthony Anderson ("black-ish")
Aziz Ansari ("Master of none")
Will Forte ("The last man on earth")
William H. Macy ("Shameless")
Thomas Middleditch ("Silicon Valley")
Jeffrey Tambor ("Transparent")
Melhor atriz em série de drama
Claire Danes ("Homeland")
Viola Davis ("How to get away with murder")
Taraji P. Henson ("Empire")
Tatiana Maslany ("Orphan Black")
Keri Russell ("The Americans")
Robin Wright ("House of Cards")
Melhor ator em série de drama
Kyle Chandler ("Bloodline")
Rami Malek ("Mr. Robot")
Bob Odenkirk ("Better Call Saul")
Matthew Rhys ("The Americans")
Liev Schreiber ("Ray Donovan")
Kevin Spacey ("House of cards")
Melhor atriz coadjuvante em série de comédia
Niecy Nash ("Getting on")
Allison Janney ("Mom")
Kate McKinnon ("Saturday Night Live")
Judith Light ("Transparent")
Gaby Hoffmann ("Transparent")
Anna Chlumsky ("Veep")
Melhor ator coadjuvante em série de comédia
Tituss Burgess ("Unbreakable Kimmy Schmidt")
Louie Anderson ("Baskets")
Ty Burrell ("Modern Family")
Andre Braugher ("Brooklyn Nine-Nine")
Keegan-Michael Key ("Key & Peele")
Matt Walsh ("Veep")
Melhor atriz coadjuvante em série de drama
Maura Tierney ("The Affair")
Maggie Smith ("Downton Abbey")
Lena Headey ("Game of Thrones")
Emilia Clarke ("Game of Thrones")
Maisie Williams ("Game of Thrones")
Constance Zimmer ("UnReal")
Melhor ator coadjuvante em série de drama
Jonathan Banks ("Better Call Saul")
Ben Mendelsohn ("Bloodline")
Peter Dinklage ("Game of Thrones")
Kit Harington ("Game of Thrones")
Michael Kelly ("House of Cards")
Jon Voight ("Ray Donovan")
Melhor atriz em série limitada ou filme para TV
Kirsten Dunst ("Fargo")
Felicity Huffman ("American Crime")
Audra McDonald ("Lady Day at Emersons Bar and Grill")
Sarah Paulson ("The People vs O.J. Simpson: American Crime Story")
Lili Taylor ("American Crime")
Kerry Washington ("Confirmation")
Melhor ator em série limitada ou filme para TV
Byan Cranston ("All the way")
Benedict Cumberbatch ("Sherlock: The abominable bride")
Idris Elba ("Luther")
Cuba Gooding Jr ("The People vs O.J. Simpson: American Crime Story")
Tom Hiddleston ("The Night Manager")
Courtney B Vance ("The People v OJ Simpson: American crime story")
Melhor atriz coadjuvante em série limitada ou filme para TV
Melissa Leo ("All the way")
Regina King ("American Crime")
Sarah Paulson ("American Horror Story: Hotel")
Kathy Bates ("American Horror Story: Hotel")
Jean Smart ("Fargo")
Olivia Colman ("The Night Manager")
Melhor ator coadjuvante em série limitada ou filme para TV
Jesse Plemons ("Fargo")
Bokeem Woodbine ("Fargo")
Hugh Laurie ("The Night Manager")
Sterling K. Brown ("The People vs O.J. Simpson: American Crime Story")
David Schwimmer ("The People vs O.J. Simpson: American Crime Story")
John Travolta ("The People vs O.J. Simpson: American Crime Story")
— CATEGORIAS DE DIREÇÃO
Melhor direção de série de comédia
Aziz Ansari ("Master of none"; episódio "Parents")
Alec Berg ("Silicon Valley"; episódio "Daily active users")
Mike Judge ("Silicon Valley"; episódio "Founder friendly")
Jill Soloway ("Transparent"; episódio "Man on the land")
David Mandel ("Veep"; episódio "Kissing your sister")
Chris Addison ("Veep"; episódio "Morning after")
Dale Stern ("Veep"; episódio "Mother")
Melhor direção em série de drama
Michael Engler ("Downton Abbey"; episódio 9)
Miguel Sapochnik ("Game of Thrones; episódio "Battle of the bastards")
Jack Bender ("Game of Thrones"; episódio "The door")
Lesli Linka Glatter ("Homeland"; episódio "The tradition of hospitality")
Steven Soderbergh ("The Knick"; episódio "This is all we are")
David Hollander ("Ray Donovan"; episódio "Exsuscito")
Melhor direção em série limitada, filme para TV ou especial
Jay Roach ("All the way")
Noah Hawley ("Fargo"; episódio "Before the law")
Susanne Bier ("The Night Manager")
Ryan Murphy ("The People vs O.J. Simpson: American Crime Story"; episódio "From the ashes of tragedy")
Anthony Hemingway ("The People vs O.J. Simpson: American Crime Story"; episódio "Manna from heaven")
John Singleton ("The People vs O.J. Simpson: American Crime Story"; episódio "The race card")
Melhor direção de especial de variedades
Beth McCarthy-Miller ("Adele live in New York City")
Chris Rock ("Amy Schumer: Live at The Apollo")
Louis J. Horvitz ("58th Grammy Awards")
Thomas Kail e Alex Rudzinski ("Grease: Live")
Glenn Weiss ("The Kennedy Center Honors")
Kahlil Joseph e Beyoncé Knowles Carter ("Lemonade")
— CATEGORIAS DE ROTEIRO
Melhor roteiro em série de comédia
Rob Delaney e Sharon Horgan ("Catastrophe"; episódio 1)
Aziz Ansari e Alan Yang ("Master of none" episódio  "Parents")
Dan O'Keefe ( "Silicon Valley"; episódio "Founder Friendly")
Alec Berg ("Silicon Valley"; episódio "The Uptick")
Alec Berg ("Veep"; episódio "Morning after")
Alex Gregory, Peter Huyck ("Veep"; episódio "Mother")
Melhor roteiro em série de drama
Joel Fields e Joe Weisenberg ("The Americans"; episódio "Persona Non Grata")
Julian Fellowes ("Downton Abbey"; episódio 8)
David Benioff e D. B. Weiss ("Game of Thrones"; episódio "Battle of the bastards")
Robert King e Michelle King ("The good wife"; episódio "End")
Sam Esmail ("Mr. Robot"; episódio "eps1.0_hellofriend.mov")
Marti Noxon e Sarah Gertrude Shapiro ("UnREAL"; episódio "Return")
Melhor roteiro de série limitada, filme para TV ou especial
Bob DeLaurentis ("Fargo"; episódio "Loplop")
Noah Hawley ("Fargo"; episódio "Palindrome")
David Farr ("The Night Manager")
Scott Alexander e Larry Karaszewski ("The People vs O.J. Simpson: American Crime Story"; episódio "From The Ashes Of Tragedy")
D.V. DeVincentis ("The People vs O.J. Simpson: American Crime Story"; episódio "Marcia, Marcia, Marcia")
Joe Robert Cole ("The People vs O.J. Simpson: American Crime Story"; episódio "The Race Card")
Melhor roteiro de especial de variedades
Amy Schumer ("Amy Schumer: Live at the Apollo")
John Mulaney ("John Mulaney: The comeback kid")
Patton Oswalt ("Patton Oswalt: Talking for clapping")
Tig Notaro ("Tig Notaro: Boyish girl interrupted)
Robert Smigel, David Feldman, RJ Fried, Michael Koman, Brian Reich, Andy Breckman, Josh Comers, Raj Desai, Jarrett Grode, Ben Joseph, Matthew Kirsch, Michael Lawrence, Craig Rowin, Zach Smilovitz, David Taylor, Andy Weinberg; Additional material by Jesse Joyce, Alex Scordelis, Ray James e Jason Reich ("Triumph's Election Special 2016")
— CATEGORIAS DE PROGRAMAS DE TV
Melhor série de variedades ou talk-show
"Comedians in cars getting coffee"
"Jimmy Kimmel live"
"Last week tonight with John Oliver"
"The late late show with James Corden"
"Real time with Bill Maher"
"The Tonight Show Starring Jimmy Fallow"
Melhor programa de variedades com esquetes
"Documentary Now!"
"Drunk History"
"Inside Amy Schumer"
"Key & Peele"
"Portlandia"
"Saturday Night Live"
Melhor reality show de competição
"The Amazing Race"
"American Ninja Warriors"
"Dancing With The Stars"
"Project Runway"
"Top Chef"
"The Voice"
Fonte: Ego.globo.com
Deixe seu comentário
Comentários via Facebook